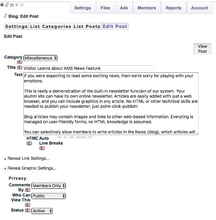 If you were expecting to read some exciting news, then we're sorry for playing with your emotions.
This is really a demonstration of the built-in newsletter function of our system. Your alumni site can have its own online newsletter. Articles are easily added with just a web browser, and you can include graphics in any article. No technical skills are needed; just point-click-publish!
Everything is managed on user-friendly forms; no HTML knowledge is assumed. The adjacent graphic shows the editing tool with this article loaded. Click it for a larger view.
You can selectively allow members to write articles in the News (blog), which articles will carry their by-lines and link to their profiles automatically. Your friends and classmates can be connected via the Web as never before.
(
Contact us
for a tour of the editing tools. This capability also allows the operator of a site-network to assign others certain content creation, management and other tasks. This status is only valid during guided tours. The example shows the current article in edit mode.)