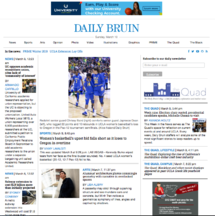 We're happy to welcome the alumni of the UCLA Daily Bruin, an award-winning newspaper that will soon celebrate its 100th anniversary.
The Bruin began as an adjunct part of the UC Berkeley newspaper shortly after the Los Angeles campus was founded in 1919.
Active alumni span the 20th Century
... Continues...